The Uetliberg Panorama from 1842 served as a style guide to achieve a historic look and feel, quite suitable for the Glacier Garden Museum's charming historic atmosphere. Detail-laden landscape illustrations with clear lines and simple colors would be an easy thing to do when used in still imagery. Recreating the same style in animated stereoscopic 4K content turned out to be one of the biggest challenges of the project. Also I wanted the viewers to be able to stop the animation at any given moment in the timeline. That meant that cheap transition effects had to be ruled out almost completely and a constant level of detail needed to be maintained. Many previously established processes had to be seriously altered, data-driven approaches only went so far. New solutions came on the fly - sometimes I even found the time to sketch the processes on paper.

Testing ways to efficiently alter the original Uetliberg Panorama and ways to animate transitions between various points in time led to a series of visuals and animations. Those visuals convinced the guys from Velvet Creative Office. They developed a concept for a stereoscopic time machine. The
historicising
stlye and 3d-effect would fit the overall concept for the museum's face lift.
Scientific advisor Franz Schenker, Geologist and visionary, helped in the creation of a storyboard. His ability to convey scientific information in easy to grasp terms and his readiness to accept the need for stunning images, made him the perfect expert to accompany the project.

The stereoscopic 4K platform challenged previously established processes. Landscape elements like vegetation, glaciers, rivers etc. needed constant level of detail and animation. It became clear that content generated in a 3d-Software would provide the raw elements to be later assembled and processed in Adobe After Effects.

Keeping detailed notes was key to keep track of new processes and solutions.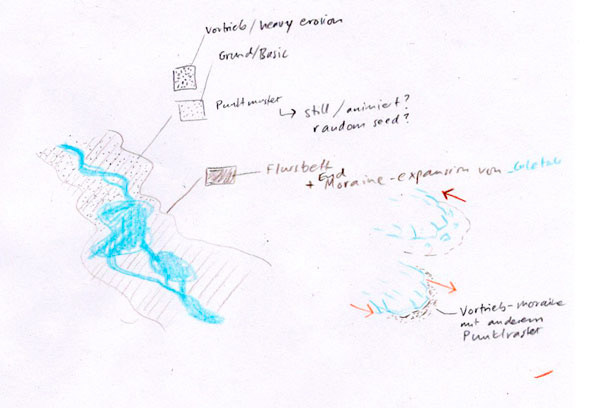 Red Cyan glasses allowed quick previewing of stereoscopic effects. The actual viewer offers separate images for the left and right eye to view the content in true color.